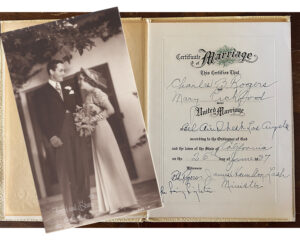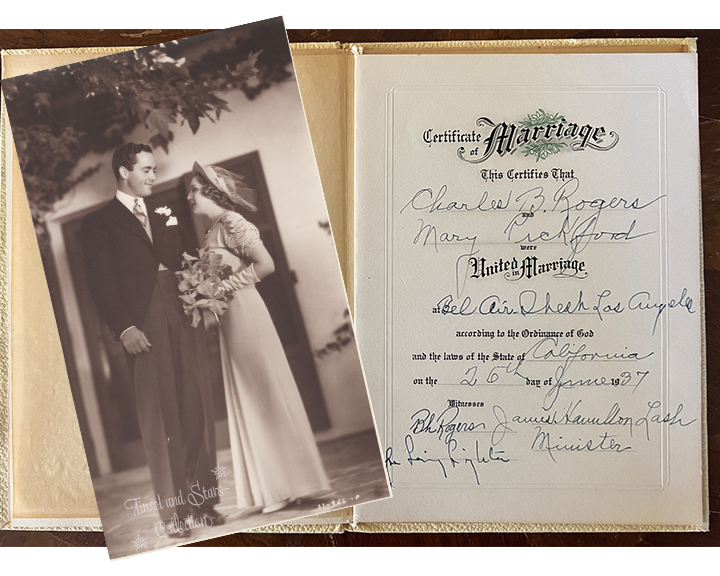 The friendship and romance between "America's Sweetheart" and "America's Boyfriend" began when Mary Pickford and Charles "Buddy" Rogers co-starred in the 1927 movie, My Best Girl.  It wasn't until 1936 that Mary would separate and divorce her then second husband, Douglas Fairbanks, that the relationship between Mary and Buddy would become public.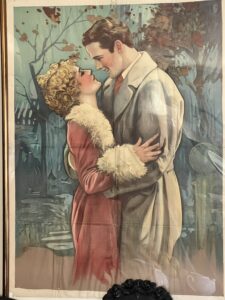 On November 16, 1936, Mary announces publicly her engagement to Buddy. They would celebrate the engagement in front of the cameras and press at a polo field.  Mary said about the engagement, "I'm a little older than Buddy, but he's old for his years." Mary laughed. Mary was 43 and Buddy 32 at the time of the engagement. "Anyway, when you're in love, years don't matter, and you can take it from me, Buddy and I are very much in love." This would be Buddy's first marriage (he would later marry again after Mary's passing) and Mary's third marriage. (Daily Mirror, November 17, 1936)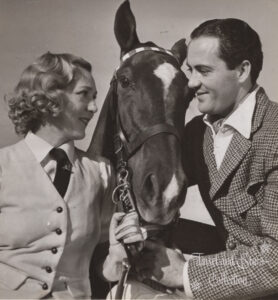 Then on June 18, 1937, surrounded by a large crowd of county employees that packed the marriage license bureau in the Hall of Records just before the 5 p.m. closing time, Mary and Buddy filed notice for their marriage.  Mary wore a black ensemble with a small black hat trimmed with a band of lilies of the valley.  Mary was even gifted a bouquet of flowers by an admirer. The inspected document was then handed to Miss Roseman Rice the marriage clerk. (The Los Angeles Times June 19,1937)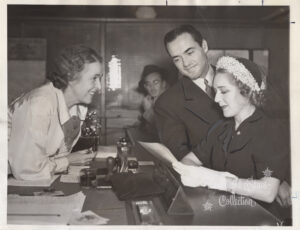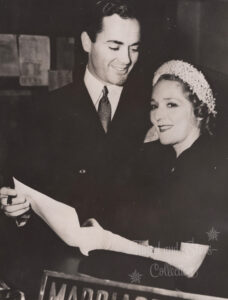 June 21, 1937, Mary went to Buddy's studio set to watch him go through with a wedding scene in his picture and was immediately pressed into service by director Robert Florey as an extra herself.  In the photo she is looking over her pay voucher for $8.25. The lowest day's pay she ever earned in films.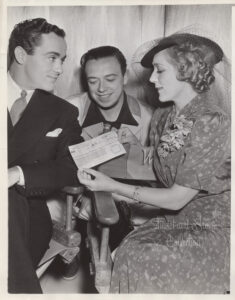 The Big Day
On June 26, 1937, Mary Pickford (now 44 years old) and Buddy Rogers (now 33 years old) while clasping hands under a sycamore tree, were married at the home of their friends in Bel Air.
Reverend James Hamilton Lash, pastor of the Hollywood Congregational Church, married the two in the garden at the home of Mary's old friends, Mr. and Mrs. Louis Lighton (both screenwriters). Louis Lighton and his wife Hope Loring have also written some of the screenplays of Mary and Buddy's movies. Louis and Hope were both co-writers for the 1925 Little Annie Rooney. Hope would also write the screenplay for It (1927) with Clara Bow, Wings (1927) with Buddy, just to name a few.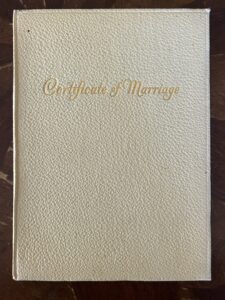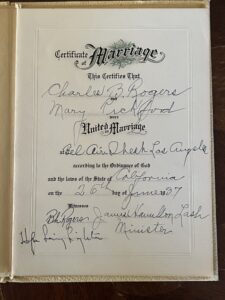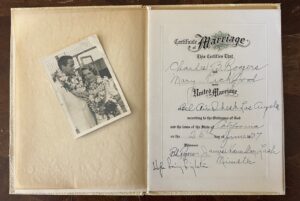 The home at 500 Perugia Way in Bel Air still stands today and the estate is called Il Sogno. The home was built in 1928 by architect Mark Daniels for inventor G.E. Ruckstell. The home was highlighted in newspapers in 1929 for its unique roof. It said, "Deep browns and salmon tints merging and blending with deeper tones of an informal garden and verdant rockery." Being one of the newest of the color ideas in roofing tile, it goes on to say "Fittingly framed against the California landscape and crowning the white stucco walls, the roof of the Ruckstell home is composed of a graduated, antique handmade, Junipero roof tile recently designed and produced in the Los Angeles plant of Gladding, McBean & Co. Shading from a dark brown at the eaves, the roof graduates in color tones to a delicate shade of salmon pink at the rooftree.  The effect produced is one of harmony with the exterior design of the home, an affect heightened by the coarse, handmade texture of the tile. (The Los Angeles Times. November 17, 1929)
If you drive around the property today, it is overgrown with beautiful trees and flowers. But up on the hill of the property, you can still see the old sycamore trees.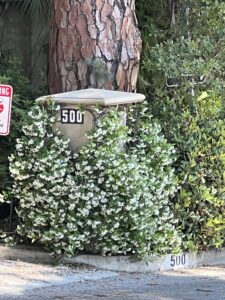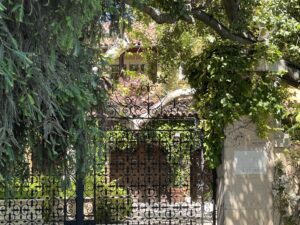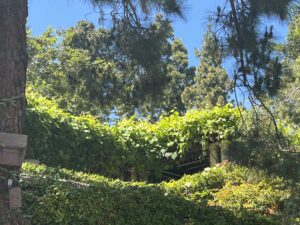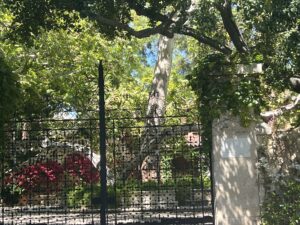 Just a few friends and relatives looked on. Relatives included: Judge Bert H Rogers (Buddy's father), BH Rogers (Buddy's brother who accompanied him to the altar and Selmer Chalif (Mary's cousin gave away the nervous but excited bride). Other witnesses included: Gwynne Pickford (Mary's niece and adopted daughter), Frances Marion (highest paid woman scenarist and Mary's long-time friend), Verna Chalif (Mary's cousin) and Verna's son Don, John Lock (husband of the late Lottie Pickford), Mrs. F.E. Benson, a cousin of Mary, Mrs. John Binford (Buddy's sister) and her daughter Shirley Jane and Buddy's aunt Mrs. William Holsinton.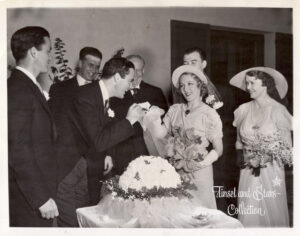 Mary wore a gown of sky-blue crepe, with a high waist, short sleeves and jacket, and an empire felt hat.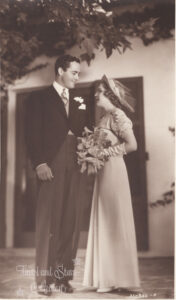 Police were on guard. Three thousand uninvited guests tried to see the wedding. They began marching from Hollywood hours before the wedding, bearing cards such as "God bless the lovely bride."
Police had to surround the Lighton home to keep the cheering, excited crowds from storming the garden.
Three hundred guests, including the greatest stars in Hollywood, attended the wedding reception after the ceremony. The ceremony was held at Pickfair. Charlie Chaplin and Paulette Goddard were guests at the reception along with Harold Lloyd and Mildred Davis.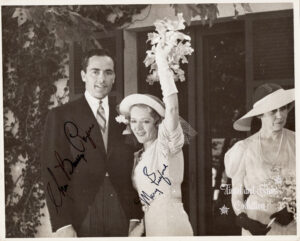 Then the bride and bridegroom sailed for Honolulu for the honeymoon in the luxury liner Lurline along with Jeanette MacDonald and Gene Raymond.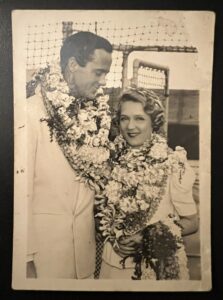 Certainly having previously lost her mother and two siblings made this wedding bittersweet. Although, later Mary did express how happy she was that her mother Charlotte was able to meet Buddy. During the filming of My Best Girl, Charlotte was battling cancer and would die a year later. While being treated for cancer, Charlotte would paint to take her mind off of the pain. She even was able to gift Buddy one of her paintings such as the one in the Tinsel and Stars Collection.