This year marks the 85th anniversary of Mary Pickford's radio show, Parties at Pickfair.
Mary was a pioneer in film with her last feature film in 1933.  She had hoped to be a pioneer on radio too as she felt radio lacked decent radio scripts.  She initially took to the radio in late 1934/early 1935 with the Mary Pickford Dramas which was on NBC with the Mary Pickford Stock Company.  She took stories and plays (including Daddy Long Legs) and acted them out on radio.  However, she did not renew her contract in 1935 because of the difficulty in finding plays adaptable both to radio and to meet her requirements.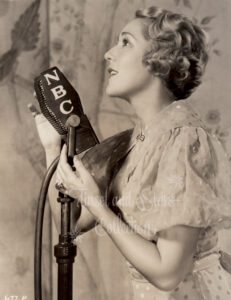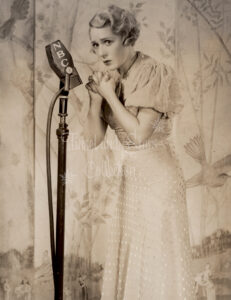 Fast forward nearly a year later, Mary takes the role of hostess as she broadcasts Parties at Pickfair via Columbia (CBS) not NBC again as it was first announced.  This new idea of on-air radio entertainment was featured every Tuesday at 7 p.m. (PST).  The show debuted on February 11, 1936 with her first guest being Edward Everett Horton.  It was sponsored by the ice industry (such as Polar Ice) and produced/directed by Marian Parsonett (along with his assistant Nat Wolff).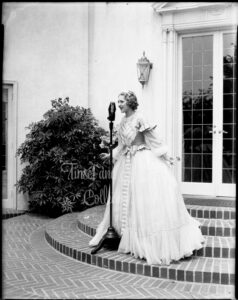 Listeners got to "visit" Miss Pickford's spacious mansion atop Beverly Hills, joined by famous Hollywood personalities invited each week to Pickfair by the lovely hostess.  Her luxurious living-room & laundry room was wired to accommodate Al Lyon's famous Cocoanut Grove Orchestra.  Her Louis XVI furniture had to be moved into the dining room.
While wearing a royal blue soft wool dress with a silver buckle and her golden hair shining in the sunshine, Mary was interviewed as she finished rehearsal stating, "I want everyone who listens to my program actually to be a guest at Pickfair. I want to invite the world over the air to my home."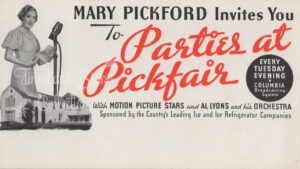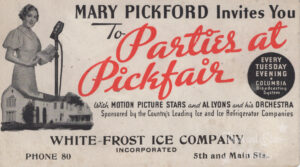 The Music
Al Lyon's famous Cocoanut Grove Orchestra band consisted of Don Zelaya (the philosophical pianist), The Three Rixfords (European novelty act), Gardner & Kane (Broadway Dancers) and Nick Cochrane (singer of comedy songs highlight the continental review).  Paul Taylor's chorus was also a highlight.
"Moonlight in Hilo" was the program's theme song that introduced Parties at Pickfair.  Songs played during the debut of Parties at Pickfair, included:
"I've Got My Fingers Crossed"
"Life Begins When You're in Love"
"Breaking in a Pair of Shoes"
"A Beautiful Lady in Blue"
A medley of Irving Berlin tunes:
"Always"
"Remember"
"Alone"
"Russian Lullaby"
"I Hope Gabriel Likes My Music"
"Goody-Goody"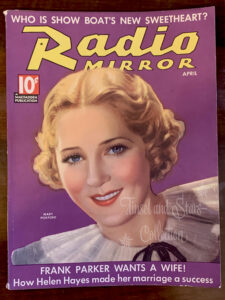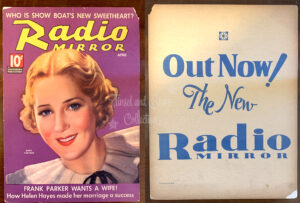 Mary Pickford urges the radio industry to have better scripted programming
Mary felt it was important to have not just guest from cinemaland but those who have interesting stories.  An example of a guest whose story touched Mary Pickford was Mrs. Aline Sholes.  She came on air to discuss her rescue from a burning ship in the mid-pacific.
The shows also had drama, skits and themes (such as Pirate Night and a Circus theme).
For guests of entertainment fame, Mary felt they deserved to be paid well for coming on her show.  However, because of this, her friendship with Louella Parsons struck a reef.  Louella also had a radio show for William Randolph Hearst called Hollywood Hotel.  Louella felt it was not necessary to pay her guests and felt Mary paying $1,000 to $3,000 per guest was her way to compete against Louella for the top entertainers.  Louella notified the motion picture studios to say that if any of their stars go on Parties at Pickfair, she would not mention them in any of her columns.
Schedule of guests
Mary had many guests including her niece Gwynne (who went by the name Ann Kirby on the show). Advertised guests included:
February 11:  Edward Everett Horton
February 18:  Francis Lederer (advertised to play opposite of Pickford in her next picture apparently)
February 25:  Ginger Rogers and Charles Butterworth
March 3:  Gloria Swanson, Michael Bartlett, Hoot Gibson and Sidney Skolski
Next two episodes were filmed in New York City with Harry Salter's Orchestra
March 10:  Freddie Bartholomew (reenacted Little Lord Fauntleroy with Pickford on this episode)
March 17: Gladys Swarthout (mezzo-soprano) & husband Frank Chapman (baritone)
Back at Pickfair
March 24 & March 31 (due to a disruption on the east coast airing, the one episode was repeated 2 weeks in a row):  "Vienna Night" theme with Helen Gahagan with husband Melvyn Douglas, George Brent
April 7: All-Southern theme with Joel McCrea, Johnny Mack Brown & Fuzzy Night. They did a skit showing how a Northerner makes love and then repeats with Johnny Brown to show how a Southerner would act.
April 21:  Adolphe Menjou with wife Verree Teasdale
April 28:  Victor McLaglen and Arthur Tracy
May 5: Hawaiian Holiday theme with Robert Taylor and Charlie Ruggles
May 12:  Jeanette MacDonald along with the United Artist Orchestra's director Al Newman, Irvin Cobb and Frank Shields (tennis star)
May 19:  Circus Night theme with Edward G. Robinson, Clyde Hager and George Huston
May 26:  A night to honor the Texas Centennial with Fanchot Tone and Queenie Smith
June 2: Pirate Night with Errol Flynn, Hugh Herbert and Paul Keast (a local baritone). Includes a skit about Life on the Spanish Main
Change to Sundays
June 7:  Gay Nineties Night with Charles Winninger and Allan Jones
June 14: Final episode with Errol Flynn, Una Merkel and Allan Jones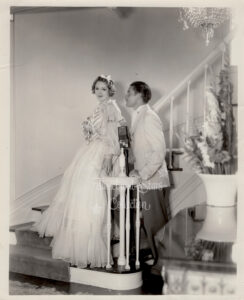 Parties at Pickfair comes to an end
By June of 1936, the show was struggling and failing to gain interest. They changed the day of the week it aired from Tuesday to Sunday.  However, even with the day change, June 14 was the last episode.  Mary had back Errol Flynn who was recently on her show along with Una Merkel and Allan Jones.  By 1937/1938, Mary wanted to try again with radio, this time to promote her cosmetic line.  While she moved forward with developing the Mary Pickford Cosmetics, the radio show did not happen. To learn more about her cosmetic line, read out blog at https://tinselandstars.com/mary-pickford-enters-the-cosmetic-business/
A clip from Parties at Pickfair
Hopefully more clips and complete episodes will turn up and become available.  Here is a small 7 minute clip which appears to be the beginning of an episode.  This is from the David Plotkin collection.  Enjoy!
Full Parties at Pickfair radio episodes
Thank you to David Plotkin for discovering two complete radio shows of Parties at Pickfair. They are available for your listening pleasure:
February 25, 1936. Featuring Ginger Rogers, Charles Butterworth, Cesar Romero and Rouben Mamoulian
May 12, 1936. Featuring Jeanette MacDonald, tennis star Frank Shields, composer Alfred Newman, author Irvin Cobb