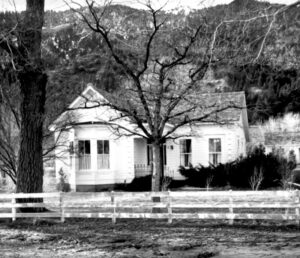 March 2, 2020 marks the 100thanniversary of the day Mary Pickford was granted divorce from her husband, Owen Moore.  On February 21st, 2020, we made a pilgrimage to northern Nevada to follow the steps Mary took during her stay.
Mary Pickford's divorce to Owen Moore not only led way to the legacy of her marriage to Douglas Fairbanks but also the amendment to Nevada divorce law.
Mary and Doug's love affair began when his mother, Ella, died in December 1916.  He made his divorce to his first wife, Beth, official in March 1919.  Mary feared that if she too got divorced from Owen and married Doug that her career would be ruined.  She stated in her autobiography, "by the certainty that people would be saying I bought off one husband to acquire another."
Mary Pickford has been credited with starting the tradition of Hollywood stars, particularly before the 1960s, rushing to Nevada for divorces. The great scenes in the 1939 movie, The Women, where the characters flock to a ranch in Reno, Nevada to obtain divorces from their husbands, is a reflection of the stir Mary Pickford caused.  The Saturday Evening Post (December 11, 1937) even said, "Mary Pickford gave Reno its best ad." The Reno Divorce Racket (1931) stated "Mary Pickford, who first made Reno divorces famous."
In fact, Mary Pickford did not get divorced in Reno nor its county, Washoe.  Mary actually got her divorce in Minden which is about 45 minutes south of Reno in Douglas County.
Mary Pickford never gave a finer performance than she did during the divorce trial.  Despite her sworn statements it appears the following events discussed were planned between Pickford and Moore.  Her lawyer, Pat McCarran, must have been party to the deception.  McCarran, former Justice of the Supreme Court of Nevada. McCarran would later become a United States Senator from 1933 to 1954 (if you have ever flown into the Las Vegas airport, you will notice it is called McCarran International Airport after him). Years later, McCarran boasted he had a hand in the original law's wording.
In 1915, it was approved by Nevada Legislature that there will be a six-month residency requirement to get a divorce.  Pickford most certainly did not want to stay in Nevada longer than she needed to.  The reason for her ability to receive a divorce after only a 16-day residency was in the peculiar wording.  The first half of the sentence stated divorces could be obtained by any resident in a county where the defendant in a divorce action could "be found." Only in the second half of the sentence was the six-month residency requirement:
"Divorce from the bonds of matrimony may be obtained, by complaint under oath, to the district court of the county in which the cause therefor shall have accrued, or in which the defendant shall reside or be found, or in which the plaintiff shall reside, if the latter be either in the county in which the parties last cohabited, or in which the plaintiff shall have resided six months before suit be brought…"
Though her divorce to Owen was finalized in 1920, suits and appeals for fraud and bigamy continued against her and Pat McCarran, until it was finally upheld in 1922.  After 1923, the requirement was cut to three months and then to six weeks.  Reno became notorious as the nation's divorce capital.
The Timeline of Moore vs. Moore Divorce
Mary Pickford's reasoning for taking up residency in Nevada was for health issues.  In her divorce testimony, she stated that around Christmas time, she had a nervous breakdown and her doctor recommended that she relocate to a new place where she can relax.
Pickford's divorce excursion started when she left California on February 13th in 1920.  She arrived at the Southern Pacific Railroad passenger depot in Reno on February 15th. The 27-year-old was greeted by her lawyer, Pat McCarran. Mary was introduced to McCarran by her manager, D.F. O'Brien.  Pat McCarran took Mary and her mother, Charlotte, by automobile to a ranch owned by a friend of his, James (and his wife Jane) Campbell in Genoa, Nevada.
Genoa, Nevada
Genoa is a small town nestled at the base of the eastern slope of the Sierra Nevada Range.  Founded in 1851, it was the first settlement in the Nevada Territory and settled by Mormon Pioneers.
As we drove into the town on Hwy. 206, we were able to get the feel of the chilly February afternoon with the slight dust of snow on the foothills that Mary would have experienced as she arrived into the community.
The main intersection is on Main Street where they rebuilt the trading post that was the Mormon Station.  There is also the oldest Nevada saloon that is still in operation.  Mule deer can be seen along the roads.
The Campbell's ranch is located on the Northwest corner of Main Street and 1st Street. Very little of the home has changed since Mary had her stay of 16 days there (it was also a leap year).
An article in the Nevada Appeal (July 3, 2004) interviewed Gus Campbell who was the grandson of James and Jane.  He was only 4 years old at the time of Mary's stay, but he remembers playing hopscotch and riding horses with her.  His grandmother introduced Mary to him and his friends as "her niece from back East."  Genoa at the time had no paved streets and the home had an inside bathroom, which was a rarity in rural Nevada.  Gus Campbell became aware of her prominence as he grew older.  People would come and beg to lie in the big canopy bed Mary had lain.
The town of Genoa is about 12 minutes away from Minden, where Owen Moore was served papers and the divorce hearing took place.
Owen Moore and The Minden Inn
Owen Moore and Mary Pickford were married in New Jersey on January 17, 1911 (based on the date she gave in her testimony). Mary was only 17 years of age at that time.  However, they were often separated during the marriage with a final separation that took place in April 1917.
For Pickford and McCarran to utilize the loophole in the law, they needed Owen in Douglas County.  In Scott Eyman's biography of Mary Pickford, he states that based on Douglas Fairbanks's brother, Robert and her best friend Frances Marion's memory, Mary paid Owen $100,000 to get the divorce.  However, knowing that Owen knew how much Mary made and that Douglas paid his previous wife $500,000 (half of his fortune) for a divorce, the $100,000 seemed low even to Scott.  Yet, I found in some articles such as The Sheboygan Press (March 4, 1920) she paid Owen $1,000,000 to go along with the divorce.
Owen Moore arrived in Nevada on Monday, March 1st on the Number 6 train with "Tip" Gray and Jim Daly, his "location men."  Owen had claimed that he was in Nevada because he was looking for a gold mine location in Virginia City that could be used in a future picture.  However, due to a lack of accommodations and a storm that affected the roads into Virginia City, he wanted to visit a "lovely, little valley" south of Carson he had heard about. That place was Minden.
While dining at the Minden Inn (now Douglas County government offices) with his party, he was also accompanied by Gardnerville lawyer Albert C. Ayres (assigned to him by Pat McCarran).  There, a sheriff appeared with papers in the divorce suit.  While at the Minden Inn, Moore was recognized as the famous actor by the waitress and the Inn clerk.
Once the papers were signed under the supervision of Ayres, they returned to Reno. They stayed at the Riverside Hotel (now apartments, sits on the exact location where Reno began) while he waited for his train back to California, where he would be staying at the Los Angeles Athletic Club.  Moore was in Nevada for no more than 12 hours.
Douglas County Courthouse, Minden, Nevada
Along with her mother, Gladys Marie Moore (Mary's name in the legal divorce documents, though her birth name is Gladys Louise Smith) entered the courtroom wearing a rough topcoat, simple little winter hat, inconspicuous skirt, plain black shoes and colored goggles.  The judge on the hearing was F.P. Langan.  Those in attendance also included Pat McCarran, James Campbell as witness resident (during that time, a witness of residence needed to sign the divorce papers too) and Judge Langan's daughter who took the testimony.  Her manager C.F. O'Brien had departed for New York on Monday. Judge Langan apparently did not recognize Pickford as an actress.
Between sobs, Mary said she intended to make the state of Nevada her permanent residence.  Her husband, Owen, had abandoned her on several occasions and finally in April 1917. He was verbally abusive and often under the influence of liquor, she cried.
In Part II of this blog, you can read the testimony in its entirety. https://tinselandstars.com/part-ii-100th-anniversary-of-the-mary-pickford-owen-moore-divorce-trial-testimony/
At 5:00 p.m., Judge Langan granted the woman he knew as Gladys Marie Moore a divorce.  She testified that she could care for herself financially and waived all claims to alimony.
As Mary left the little courtroom, she remarked her surprise at the quickness with which it had all been accomplished— "begun on Monday, ended on Tuesday," she said.  And somebody in the courtroom quoted the Old Mother Goose rhyme of Solomon Grundy:
Solomon Grundy,
Born on a Monday,
Christened on Tuesday,
Married on Wednesday,
Took ill on Thursday,
Worse on Friday,
Died on Saturday,
Buried on Sunday,
This is the end of Solomon Grundy 
Mary's Trip Back to California
After the divorce was granted on March 2nd, Mary and her mother immediately and secretly took a train back to California on March 3rd.
Witnesses claim that at around 5:00 p.m. on that Wednesday, a big automobile carrying Mary Pickford, drove through Carson City for Reno. They had stopped at Pat McCarran's home for her to touch up her makeup prior to the train to Sacramento and then Oakland.  McCarran's home at the time was on Belmont Road (which is now Arlington Avenue). McCarran and his family lived at a house named by the neighborhood kids, "the bullfrog house" or "the frog house." Originally built by a successful miner who had placed a bullfrog made of lead on the roof in honor of his Nevada mine named the Bullfrog mine.
While trying to play hide and seek with reporters, witnesses saw a closely veiled Mary Pickford, her mother and a maid get on train Number 5 in Reno at the Southern Pacific Railroad passenger depot.  The current train station was built in 1926 because the previous buildings before had all burned down.
A reporter boarded the train in Sacramento and tried to get to Mary Pickford's compartment, but was stopped and told she was not speaking with anyone. When the Reno train arrived at Oakland, a dozen or more reporters waited eagerly to get a statement from the picture star.  But evidently, she had her own scenario planned.  When the train pulled into the Sixteenth Street Station, a woman believed to be Mary Pickford's mother, a girl resembling Mary and a maid quickly boarded a closed automobile.  Like a pack of wolves, the reporters took up the chase which led them down to the peninsula to San Jose.  In the city, the report gained circulation that Mary Pickford had caught the 9:30 coastline train for Los Angeles. But the truth let out and it was learned that while reporters were chasing a "dummy" Mary, the real star was resting in San Francisco for the night and could not be seen.
The Myth of the McCarran Mansion that Mary Bought
Not long after the divorce, "Fraud, Collusion, Perjury!" made the headlines about Mary Pickford and Pat McCarran.  It didn't help that Mary had married Douglas Fairbanks quickly and possibly foolishly on March 28.  McCarran was quick to state, "I helped write the law and my career stands behind that decree.  I'm ready to back it with everything there is in me."  Rumor had spread stubbornly that the Gibbons Mansion in Reno had been purchased by Mary Pickford for her Reno residence and that she had given it to McCarran as attorney's fee. The Gibbons Mansion was right down the road from the "bullfrog house."
The truth of the matter, Bert Gibbons had died in the home around February 1920 of tuberculosis.  When his wife put the house up for sale, she stated "Pat McCarran couldn't buy one of my little Hawthorne trees."  She wasn't wrong as Pat McCarran and his family had very little money.  However, in May of 1920 McCarran paid Mrs. Gibbons $35,000 for the home.  That didn't stop the gossip that claimed Mary had paid him such large fees, that he was able to purchase the home.  But it was a bank that financed the McCarran undertaking.  Later in 1937 when the Saturday Evening Post repeated these rumors, McCarran wrote:
"Mary Pickford never lived in Reno, never owned nor possessed nor occupied a house in Reno, never secured a decree of divorce, nor did she ever apply for the decree of divorce in Reno and never gave her lawyer her house or any other house located either in Reno or any other place in Nevada.  The home in which my family and I have lived since 1921 never belonged to Mary Pickford…I purchased the home and property from the original owner and builder, making but a small initial payment and later paying the entire amount as I earned the money. To these payments Miss Pickford never contributed."
Mary statements in her autobiography:
"I have always felt that my meeting with Douglas Fairbanks was predestined. Owen and I, needless to say, were anything but compatible."
"Much as I loved and needed Douglas, for almost a year after his divorce, I still fought the thought of divorce of my own.  Divorce seemed to be then as it does now a form of amputation, to be avoided even at the cost of my own happiness and that of the man who loved me. It was a black and indecisive period for me."
Resources and recommended reading:
Los Angeles Evening Express. Wed. Mar 3, 1920
The Sheboygan Press (Sheboygan, Wisconsin). Thu, March 4, 1920
Reno Gazette-Journal (Reno, Nevada). March 4, 1920
Reno Gazette-Journal (Reno, Nevada). March 5, 1920
The Washington Times (Washington, District of Columbia). Sun, May 16, 1920
The Washington Times (Washington, District of Columbia). Sun, May 23, 1920
Nevada Historical Quarterly, Volume XI, Fall-Winter 1968
Nevada Historical Society Quarterly, Fall-1976
Nevada Appeal. July 3, 2004
Reno Gazette-Journal (Reno, Nevada). March 4, 2004
Sunshine and Shadow.  Mary Pickford. 1954
Mary Pickford, America's Sweetheart. Scott Eyman. 1990
The First King of Hollywood. Tracey Goessel. 2016