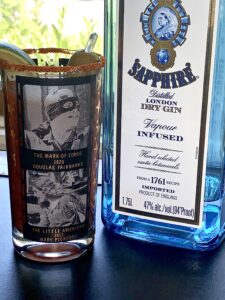 Did you know one of the origins of the cocktail name "Bloody Mary" was Mary Pickford?  Also, that Mary Pickford influenced the name of a popular gin, "Bombay Sapphire"?
There has often been a dispute on where the cocktail name "Bloody Mary" originated from.  There have been three common thoughts by cocktail historians; actress Mary Pickford, English Queen Mary I (also referred to as Bloody Mary) and a Chicago bartender named Mary who worked at the Bucket of Blood Saloon. Mary Pickford did appreciate a good glass of tomato juice, so we think she is a perfect influence to the name.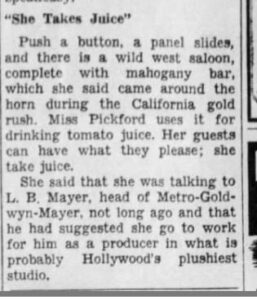 Another drink connection to Mary Pickford is the gin brand "Bombay Sapphire."  Bombay Sapphire gin started in 1986 and the name came from a sapphire gem that Mary received from Doug called "The Star of Bombay" which now resides at the Smithsonian.  The sapphire was mined in Sri Lanka.  Edward G. Stotsenberg, who was the president of the Mary Pickford Foundation at the time of her death, stated that he had the jewel appraised.  At that time, it was in a diamond necklace.  When the sapphire was appraised, it was removed from the necklace prongs and then bequeathed to the Smithsonian.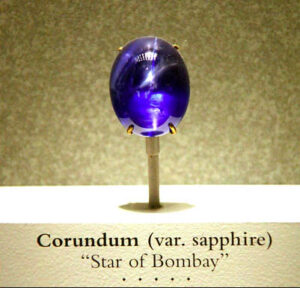 We combined these two stories to make a Bloody Mary recipe in honor of Mary Pickford.  The great thing about the Bloody Mary cocktail, is you can adjust the recipe easily to your taste buds. You can make it as spicy and/or strong as you would like.  But this recipe will give you a start.
In a martini shaker, add the following:
Ice
2-3 ounces of Bombay Sapphire Gin
8 ounces of a quality tomato juice
A squeeze of fresh lemon juice
A few shakes of Worcestershire sauce
A few shakes of Tabasco sauce
½ to 1 TBS of horseradish (not horseradish sauce)
1 to 2 tablespoons of olive juice
1 TBS of Old Bay Seasoning
Shake well and pour into your favorite classic movie watching glass.  Finish with your favorite garnishments (olives, pickles, shrimp, etc.). Enjoy!
Edward G. Stotsenberg statement on Sapphire
LA Times February 25, 1996